Our founders
Mike Sell, TJ Lawson, JT Baginski, Zane Roebuck, Jimmy Walker & Ashley Sell
MSP GYM was founded in 2017 with the specific goal of becoming the most client-centric and results-driven gym in the Greater Wheaton Area. Corporate gyms are known for penalizing clients financially for the silliest things, offering impersonal workouts, and putting profit over people. We are different. Our boutique fitness facility combines client-centricity and intelligent programming. We fervently believe that everyone can reach their unique fitness goals, and all of our fitness offerings are organized so that each and every movement can be customized and modified based on fitness history, age, goals, abilities, etc. We use evidence-based programming principles to help our clients succeed, and we meet with all of our members individually at least every quarter to ensure they're making progress. At MSP, you are not only joining a gym, but a united community that is here to have fun and support you each and every step of the way. Get ready to join the most goal-driven gym family in the Midwest!
OWNER + TRAINER
Specializations: Powerlifting & Bodybuilding Adult Semi-Private Fitness Athlete Semi-Private Fitness.
JT was born and raised in DuPage County. He is a certified personal trainer and strength coach (CSCS), and has been working in the fitness industry since 2013. JT is a former athlete in football and wrestling, as well as a former youth wrestling coach at Hadley Jr. High and has been active in sports and fitness since an early age. In his spare time, JT competes in USA Powerlifting (USAPL) as a drug free powerlifter and has also competed in The National Physique Committee (NPC) in the classic physique division. JT founded the MSP Lisle location, which is a 1,400 square foot private fitness facility equipped for any and all fitness goals. Through fitness, JT seeks to motivate and educate our clients, challenging them with an ever-evolving repertoire of fitness techniques and cutting-edge fitness equipment. As part of the MSP Family and Methodology, MSP Lisle clients include all ages and experience levels, however, share the common ground that every client receives equal thoughtful fitness and guidance. Whether your goals are functional, aesthetic, or sports-performance related, JT takes pride in actively working with MSP clients to help them achieve their maximum physical potential.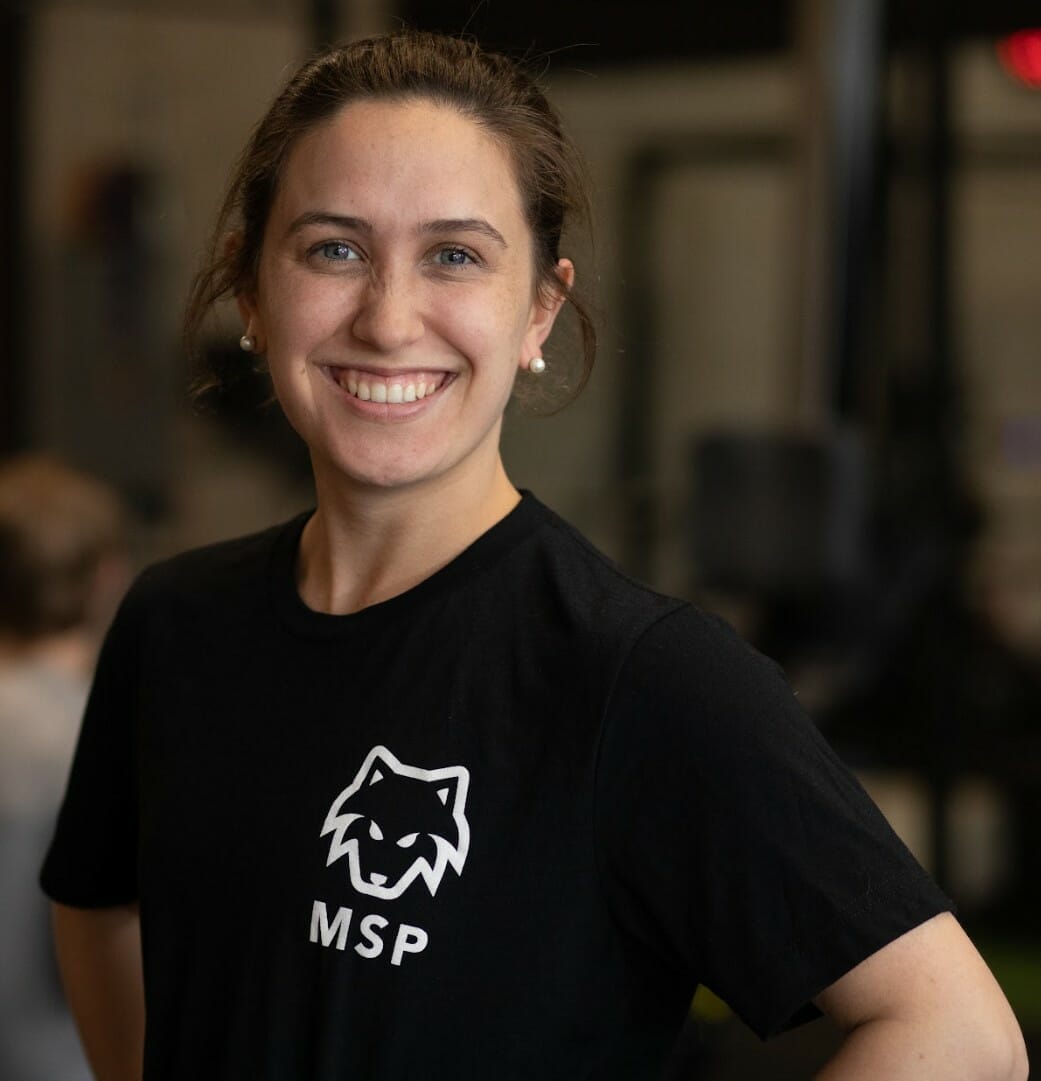 PERSONAL TRAINER + COMMUNITY SUCCESS MANAGER
Abby is a personal trainer and group fitness instructor. She specializes in kettlebell training, youth athletics, and adult group fitness. She is also passionate about strength for women and is dedicated to motivating her clients to reach their goals. Abby loves being part of the MSP
team because each team member is committed to excellence and is truly invested in their clients
lives and fitness journey!
She received her bachelor's degree in Biology and Spanish at Wheaton College. Additionally, Coach Abby was a competitive swimmer at Wheaton College, finishing with All-Conference Honors throughout her college career. Outside of the gym, Abby loves to try new restaurants, bake, and spend time with friends.
At MSP, Abby is a Personal Trainer and Community Success Manager. In these roles she can curate custom programs for her clients and also dive deep into optimizing our community experience!
PERSONAL TRAINER
Tyler is a personal trainer and a certified functional strength coach (CFSC) who specializes in adult semi-private fitness, athlete semi private fitness, sports performance, and personal training. No matter if you're a busy professional or athlete, Tyler is committed to helping you achieve your goals!
Tyler is passionate and dedicated to helping his clients grow stronger physically and mentally! His favorite part about fitness is that each workout is another chance to prove to yourself that you're capable of so much more than you think.
Tyler found his love for fitness while playing football at Elmhurst University where he also received his Bachelors degree in secondary education.
Outside of the gym Tyler enjoys cooking, spending time with friends/family, and going to the lake.
PERSONAL TRAINER
Victoria is a Personal Trainer who specializes in athlete semi-private training, sports performance, and adult personal training. She earned her Bachelor's Degree in Exercise Science from North Central College, IL. Through her coaching experience, Victoria has trained individuals and groups ranging from collegiate athletes to senior citizens.
Victoria enjoys educating and empowering her members to move forward with a healthy lifestyle to perform at their best. Her exercise programs are modeled off of the Scientific Principles of Strength Training and her experiences as an athlete, strength coach, personal trainer, and physical therapy rehab aide. She is passionate about all types of movement, nutrition, and the mind-body connection, helping others to achieve their goals in the health space.
She joined MSP because of the close-knit community it portrays and its ability to create a positive coaching environment where individuals can reach beyond their perceived limits.
Outside of the gym, Victoria loves to travel, bike, and cook new recipes!
PERSONAL TRAINER
Andy has been a certified strength and conditioning specialist and personal trainer (CSCS and CPT) since 2009 and has also been involved in corporate fitness roles such as high level national management. He has coached a wide range of skillsets from children as young as 7yrs old all the way to professional athletes of various sports – and everyone in between! He joined MSP because of the environment that it presents, the people that run the business and his true enjoyment for assisting people of all levels of fitness to get to their fitness desires.
He is married to his lovely wife, Shannon, with whom he has two children, Ryker (5) and Wyatt (3). They enjoy working out together, being outside, and doing anything active with their children. At the same time they enjoy sitting around and watching a nice movie. He also loves eating new foods!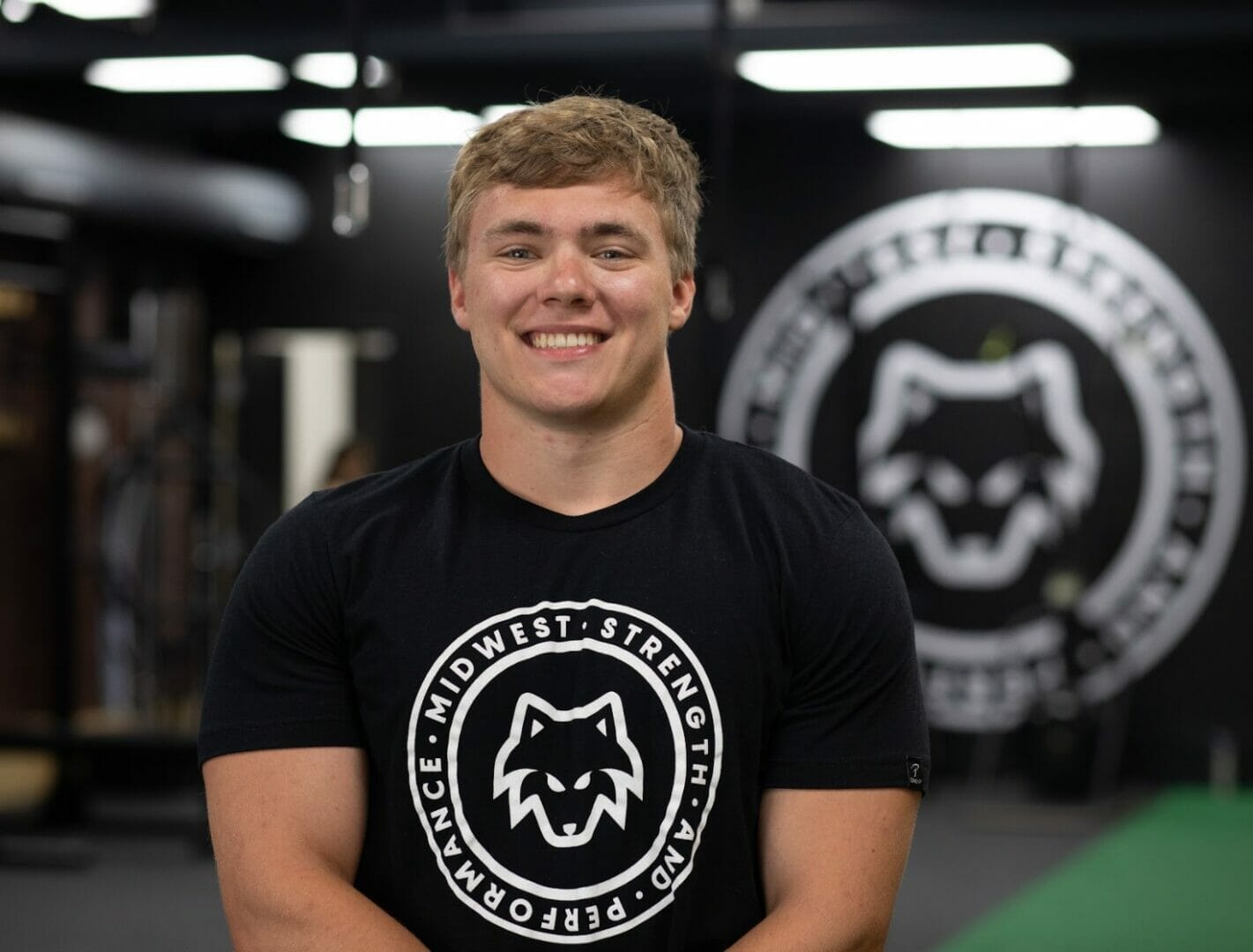 PERSONAL TRAINER
Kael is a certified trainer who specializes in Personal Training, Adult Semi-Private Fitness, Athlete Semi-Private Fitness, and Kettlebell Training.
Kael was born and raised in Delaware, Ohio. He is driven to help each client reach their goals but also wants clients to enjoy the training process. He utilizes the Scientific Principles of Strength Training to ensure every client reaches their potential.
Kael is currently a Senior student athlete at Wheaton College. He is finishing his Bachelor's degree in History and Secondary Education. He is on the Varsity Men's Swim Team and developed the Strength and Conditioning program for his team. He focuses on sprint butterfly and freestyle events, is an All-Conference performer, and winner of the CCIW Respect Award. Additionally, Kael works as a swim coach and instructor on the side.
In high school, Kael was a swim captain and MVP, a football and track athlete, Scholar Athlete award winner, and an Archie Griffin Sportsmanship Award winner. Outside of the gym, he enjoys playing the violin, watching movies, playing any competitive games, and cheering on both the Ohio State Buckeyes and Chicago Bears.
Get started
Click the button below to book a free intro. See if Midwest Strength and Performance is right for you.
Fill out the form below to get started
Take the first step towards getting the results that you want
Free Intro